Mushrooms on Toast
Quick and simple breakfast or snack
200g Oyster mushrooms
Nice bread
Butter and/or Olive oil
Salt & pepper
Slice your mushrooms or tear into chunks
Heat a frying pan up with a little oil and/or butter, add the mushrooms.
Season with salt and pepper and stir frequently for around 5 – 10 minutes.
Toast and butter the bread and when the mushrooms are golden around the edges, pop them onto the toast.
Mushroom Donor Kebab
Check out this amazing mushroom Doner kebab, a great vegetarian evening meal. Packed full of veggies and sauce, yummy.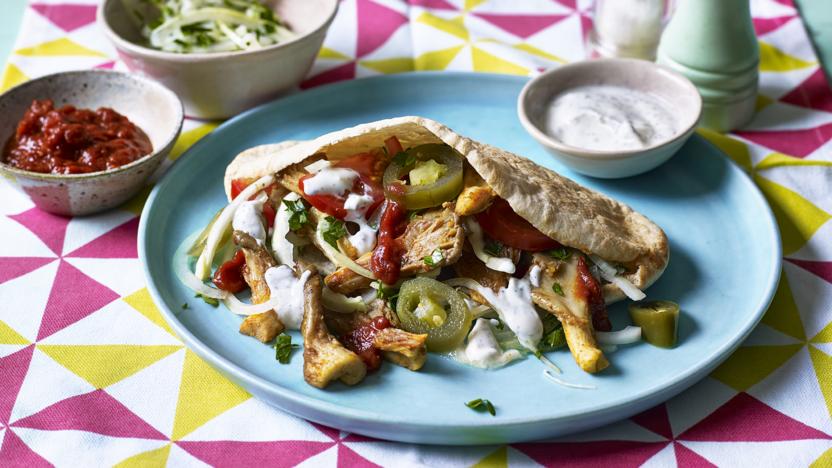 https://www.bbc.co.uk/food/recipes/mushroom_doner_22676
Mushroom Stroganoff
We tried this easy mushroom stroganoff recipe with our yummy oyster mushrooms…was delicious!
Mushroom stroganoff recipe – BBC Good Food
Taco-Tuesdays – BBQ pulled mushroom tacos!
We found this amazing recipe on Instagram @yuhan.kitchen for oyster mushroom tacos, they look divine!!
Ingredients (Serves 4)

400 g Oyster mushrooms
1 medium onion, sliced⠀

BBQ sauce⠀
1 teaspoon garlic powder⠀
1 teaspoon smoked paprika⠀
2 tablespoon olive oil⠀
100 mL ketchup⠀
30 mL soy sauce⠀
20 g dark muscovado @billingtonsuk
lemon juice from half lemon⠀

Toppings⠀
4 small tacos ⠀
1 avocado, chopped
1/4 red cabbage, sliced⠀
1 small carrot, sliced⠀
salad leaves of choice⠀

1. Combine all ingredients for BBQ sauce in a measuring jug, mix well. ⠀
2. Shred the mushrooms by tearing from the cap down to the stem. Add mushrooms and sliced onion in a large bowl. Pour over the prepared BBQ sauce, mix with a spatula until all mushrooms are coated. Marinate the mushroom for 30 minutes. ⠀
3. Heat up a frying pan, transfer the marinated mushrooms in the pan (keep the remaining sauce in the bowl). Fry the mushroom at medium-high heat for 10 minutes until mushrooms absorbed most liquid, stir occasionally. If you like crispy "pork", leave it to fry longer. ⠀
4. Heat the tacos on both side slightly on a fry pan before assembling. Pull the cooked mushrooms with two forks and top with salad leaves, chopped avocado, sliced red cabbage and carrot. Add more remaining BBQ sauce on top and enjoy.⠀
You can use other mushrooms, but oyster mushrooms give the best pulled texture.
Oyster Mushroom Gyros with Tzatziki Sauce
Serves 4
Oyster Mushroom gyros meat
500 g Oyster Mushrooms (not king oyster)
1 + 1/2 tsp Soy Sauce
5 Tbsp Olive oil
1 Tbsp Lemon juice (freshly squeezed)
2 tsp Oregano
1/2 tsp Ground Cumin seeds
1/2 tsp sweet smoked paprika powder
1 tsp Garlic Powder
1 tsp Onion Powder
1 tsp Salt
1/8 tsp Black pepper
Homemade tzatziki sauce
250 g Cucumber (large)
1,2 dl yoghurt
1,2 dl Sour Cream
1/2 Tbsp White wine vinegar
1 Tbsp Olive Oil
2 cloves Garlic
1 tsp Dill
1/2 tsp Salt
1/8 tsp Pepper
INSTRUCTIONS 
Making Mushroom gyro meat
Take your oyster mushrooms. Cut the end of the stem off. Tear both cap and stem with your hand into shreds.
Take a bowl and make the marinade by mixing olive oil, soy sauce, lemon juice, oregano, cumin, paprika powder, garlic powder, onion powder, salt, and black pepper. Mix this marinade with the oyster mushrooms.
Place a parchment paper in a sheet pan. Spread the shredded oyster mushrooms preferably in one layer.
Pre-heat oven to 425 Fahrenheit (220 degrees Celsius) and baked them for 40 minutes or until crispy on the edges. Watch how it progresses, and flip occasionally to make sure all sides are nicely baked and crispy.
Making tzatziki
Wash the cucumber and use a cheese grater to make grated cucumber.
Take a bowl and transfer the cucumber to it. Sprinkle it with salt and wait for 5 minutes for the cucumber to release water. When you see water, squeeze the grated cucumber in between your palms. If you skip this step, the cucumber will release the moisture directly to the sauce, and it will be super runny.
Take a bowl and add yoghurt, sour cream, white vine vinegar, olive oil, finely chopped garlic, dill, and pepper. Mix them well. Finally, add the grated cucumber and mix again.
Assemble your pita or wrap
Wash and slices tomatoes. Peel and slice purple onion. (You can slice more cucumbers to add if you want.)
Take your pita pocket or wrap and stuff them with all the goodies: Enjoy!